Nailed It!: 17 Biggest Baking Fails On The Show | ScreenRant
Nailed It! is one of the biggest baking Netflix hits to come on the streaming platform to date. It is so successful that there have been spin-offs created–such as Nailed It! Holiday–as well as other countries taking on their own versions of the series.
RELATED: 10 Best Guest Judges On Nailed It!, Ranked
For those unfamiliar, the basic premise is three amateur bakers who have a reputation for their baking skills, or rather their lack thereof, are brought onto the show to compete against each other. They must recreate the desserts in two separate challenges, and the best of the worst wins the $10,000 prize. Needless to say, there are far more baking fails than instances of them actually nailing it.
Updated on July 21st, 2021 by Emma Benten: Nailed It!, Netflix's hit baking competition show, managed to release its latest season four months ago against all odds. Entitled 'Double Trouble', this season continued delivering on fan's love for disastrous baked goods while ensuring the safety of cast and crew alike. From the smallest cupcake to the most elaborate layer cake, all treats created by the amateur contestants are bound to become disasters. Many of Nailed It!'s most famous creations stem from its first couple of seasons. Viewers wonder how the treats of later seasons rank and if they are just as hilarious as the classics.
17

Sheldon and Ron's 'Butter-Scream' Roller Coaster Cake ("The Burbank State Fair")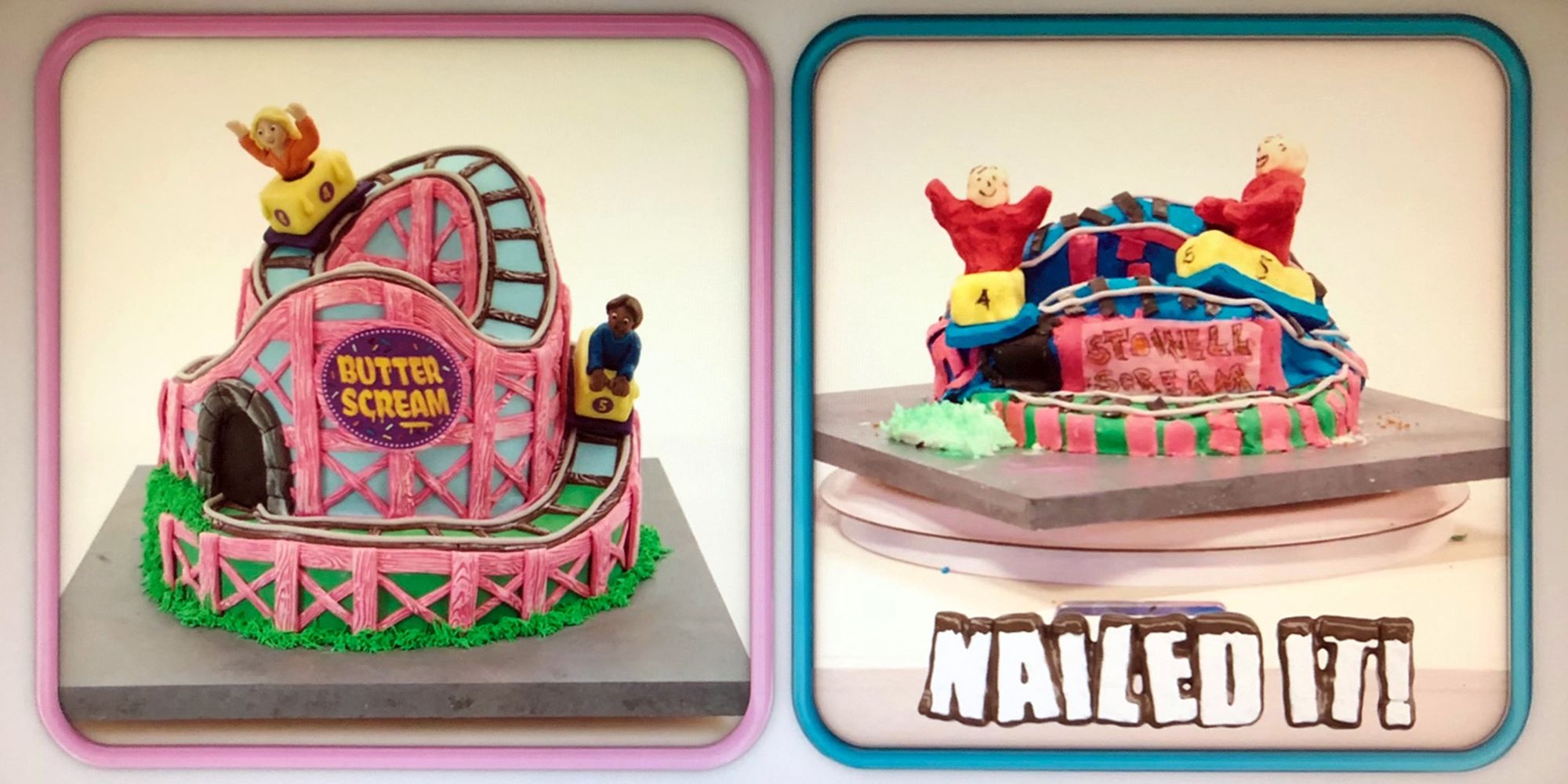 Best friends Sheldon and Ron teamed up on Nailed It: Double Trouble and managed to produce some notable disasters together. Their caramel corn clown in the episode's first challenge was a mess in its own right, but they managed to outdo themselves with their roller coaster cake.
With an overpowering flavor and Twinkie-esque cars, Sheldon and Ron managed to make Nicole laugh before they even officially unveiled their cake. Guest judge Ron Funches commended the two for having the guts to literally put their names on the cake.
16

Karamo's Look-Alike Cupcake ("3, 2, 1… Ya Not Done!")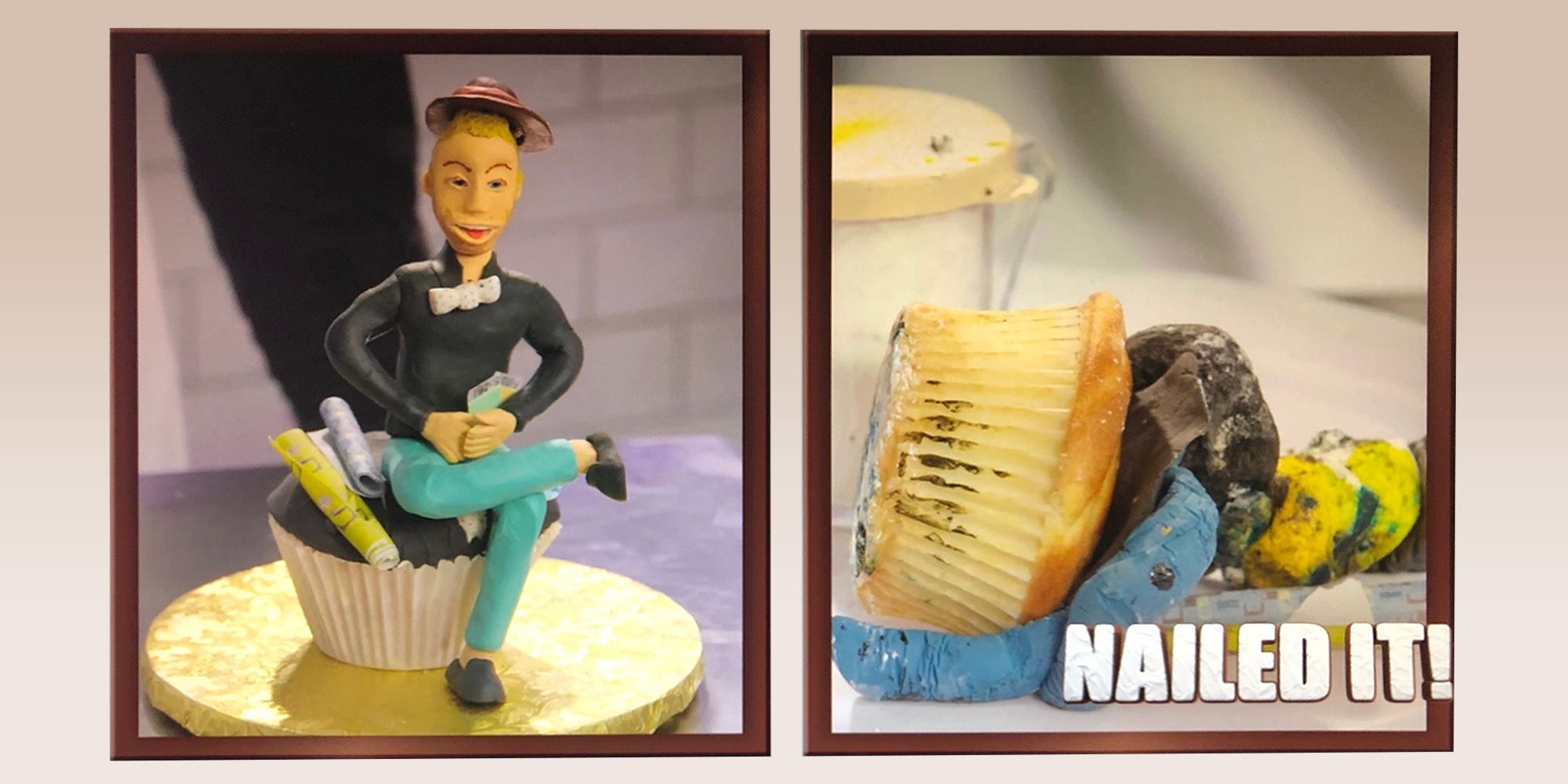 Even the Fab 5 of Netflix's hit show Queer Eye isn't safe from baking disasters. Lifestyle coach Karamo Brown got hit the hardest in this Season 2 bonus episode when he was tasked with recreating his costar Bobby Berk as a chocolate cupcake topper. By the time Karamo had to present his work to the judges, the cupcake had tragically fallen onto its side.
Karamo managed to turn his failure into a teachable moment about picking yourself up after disaster strikes. Nicole, touched by his message, told Karamo that overall, he did "a job."
15

Caitlynn And Logan's Cereal Bowl Cake ("Can't Believe It's Cake!")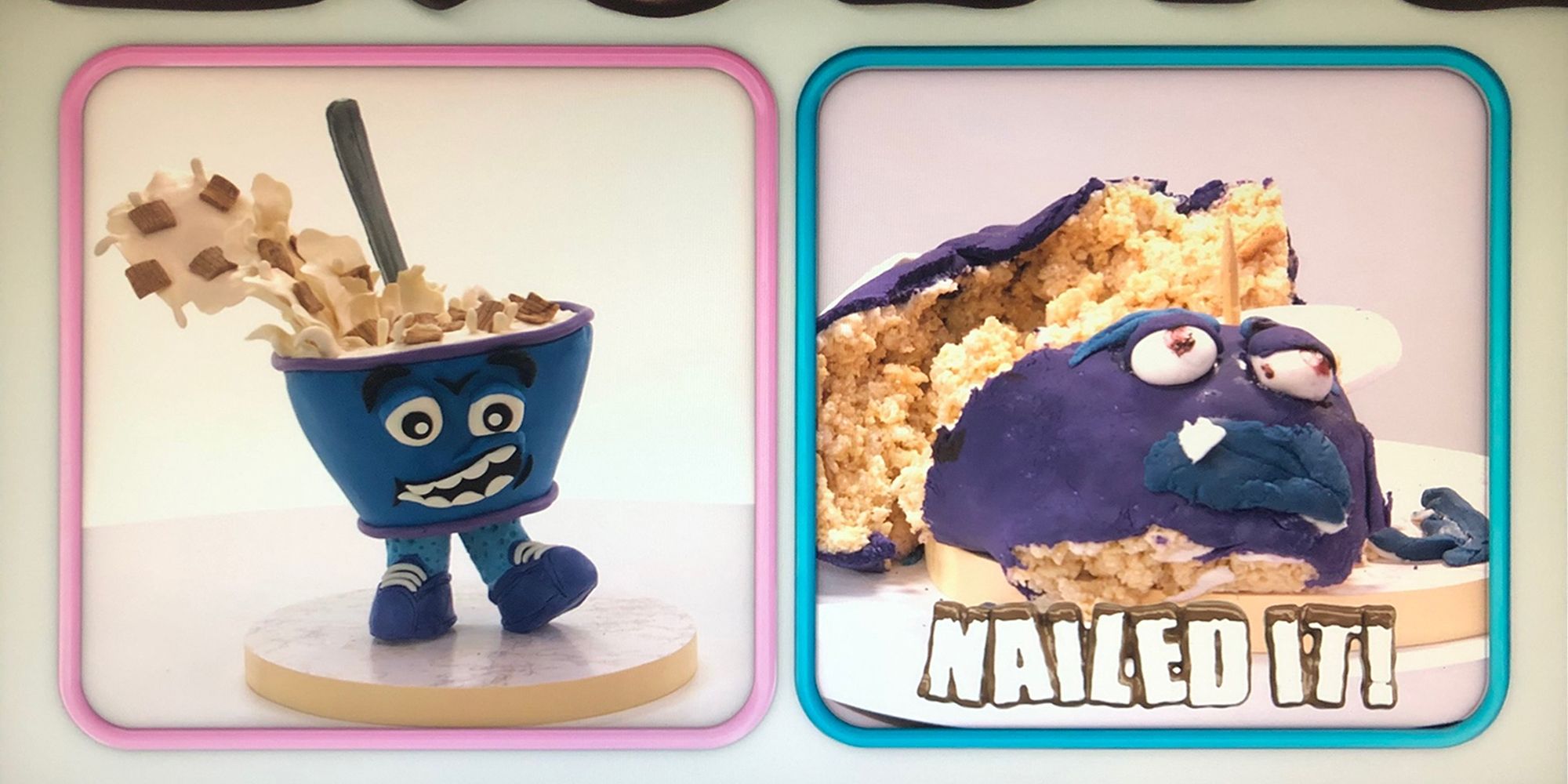 Bakers Caitlynn and Logan may have been best friends since childhood but as Nailed It! has demonstrated, friendship isn't all that goes into baking a good cake. Their cereal bowl lookalike cake literally fell apart before the judges' eyes upon presentation, saddening both contestants and judges alike.
Nicole commented on how sad the cake looked, and head judge Jacques Torres compared it to roadkill. Despite Caitlynn and Logan's attempts to direct the judges towards the cake's fancy shoes, watching the cake struggle to stay in one piece proves too distracting for Nicole and viewers alike.
14

Shelby and Chris' Grandma Cookie Jar Cake ("I've Failed And I Can't Get Up!")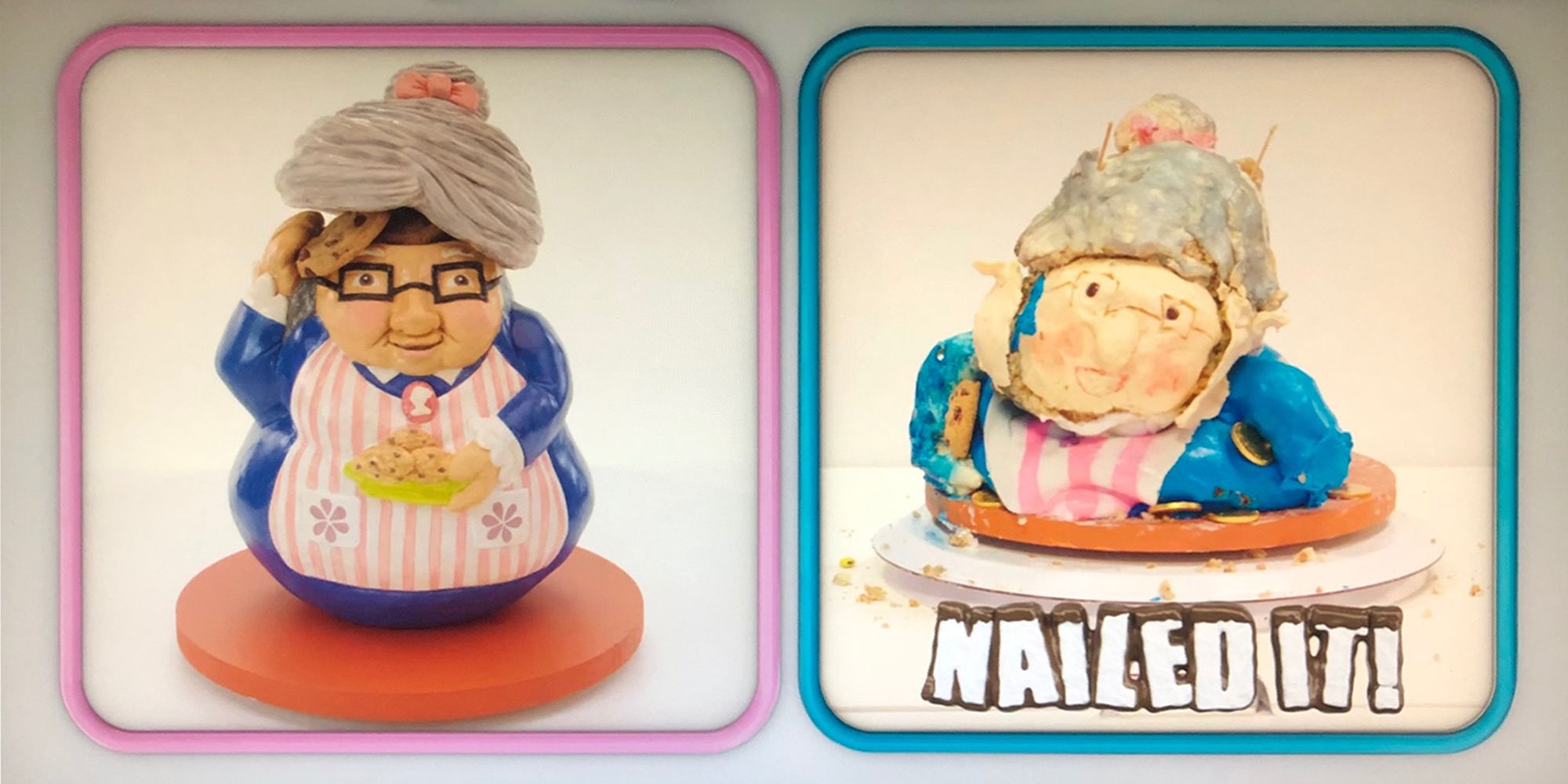 Baker Shelby Mason and her mother Chris produced a cake-slash-cookie-jar that not only bared little resemblance to the original cake but also was literally bursting at the seams. From the pieces of fondant about to fall off to the random piece of gelt sticking out of a compromising part of the cookie jar, Shelby and Chris's cake gave plenty of material for the judges.
Guest judge Brian Posehn compared the grandma cake to The Silence of the Lambs, noting that she looked as if she had stolen another grandma's face. This was one cake that tasted better than it looked, as Shelby and Chris' confections were all well-baked.
13

Chris' Cupcake Pops ("Fictitious And Delicious")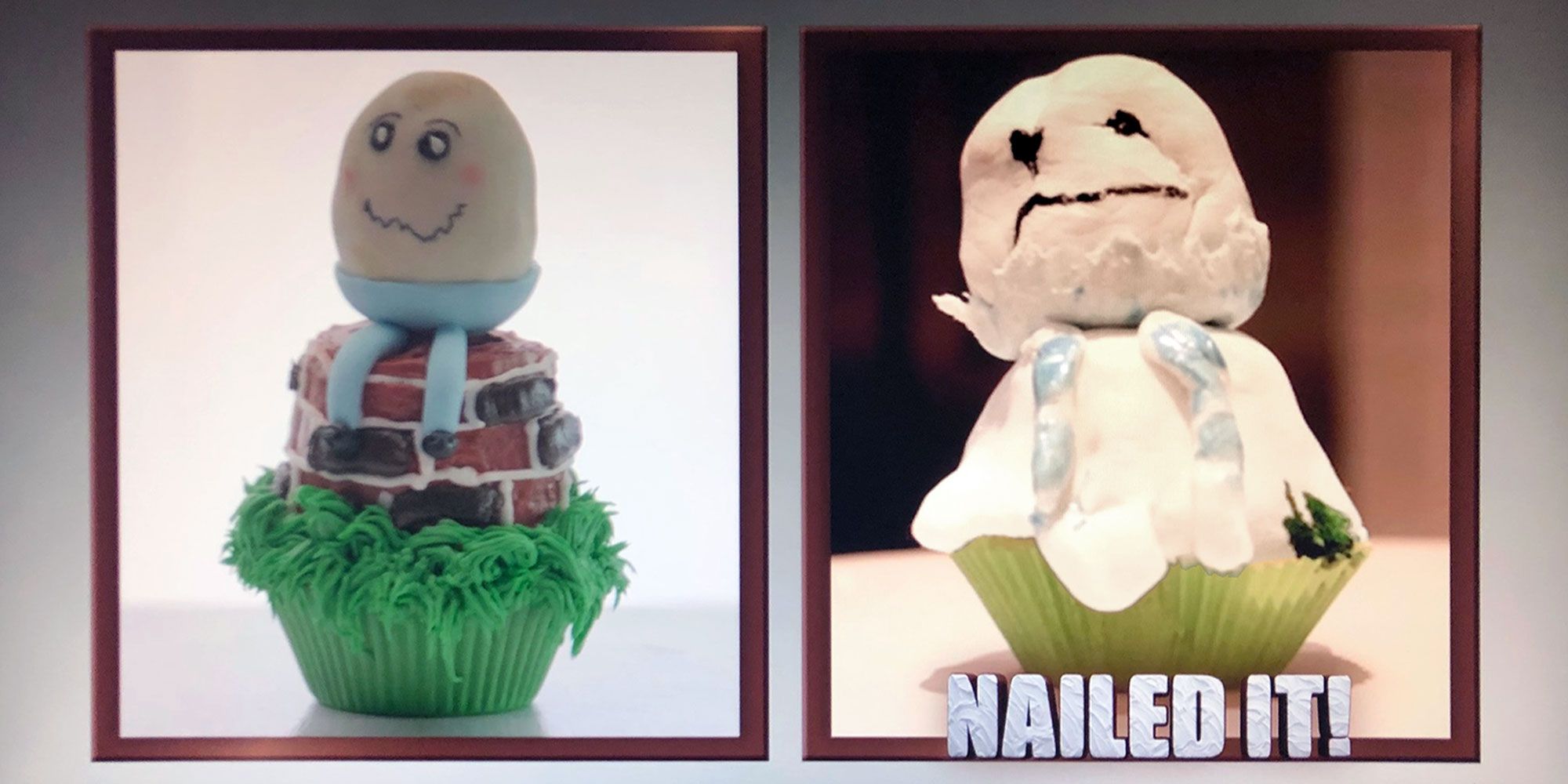 In one of Nailed It!'s most popular episodes, baker Chris Elam makes the ultimate rookie mistake by accidentally putting salt instead of sugar in his Humpty Dumpty cupcake pops. Unfortunately, the judges don't catch onto his error and only discover what had happened upon putting it in their mouths. While Jacques is baffled by how dry the cupcake is, Nicole spits her bite out in shock.
Appearance-wise, Chris' cupcake doesn't fare much better, earning comparisons to a bottomless snowman. Thankfully, Chris manages to turn his luck around by the second challenge and wins the $10,000 prize for his efforts.
12

Veronica And Justin's God Cupcake ("An Ungodly Mess")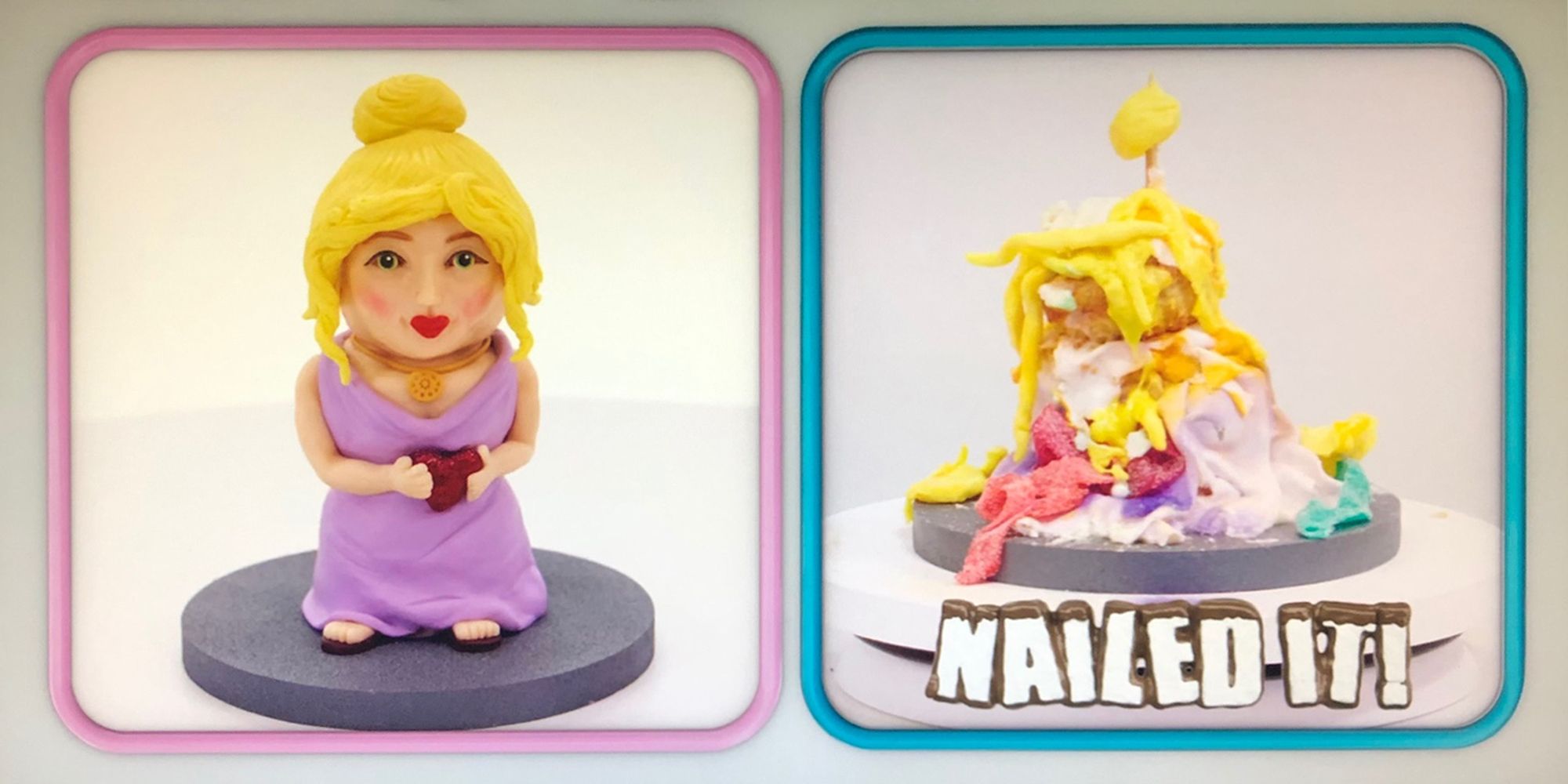 What started as an attempt to capture the greek goddess Aphrodite in cupcake form resulted in a runny mess that caused the usually composed Jacques to burst into hysterical laughter. Even bakers Veronica and Justin seemed confused by how their cupcake turned out. Guest judge Andrea Savage, meanwhile, was rendered speechless by the taste of the cupcake.
RELATED: Every Season Of The Great British Baking Show, Ranked
Veronica and Justin's cupcakes were not the only disasters in this challenge. Fellow contestants Ivonne and Kayla's Zeus cupcake was closer to a candy apple than any recognizably human shape, but its taste gave them the edge over Veronica and Justin.
11

Sal's Hot Tub Cake ("Head Under Water")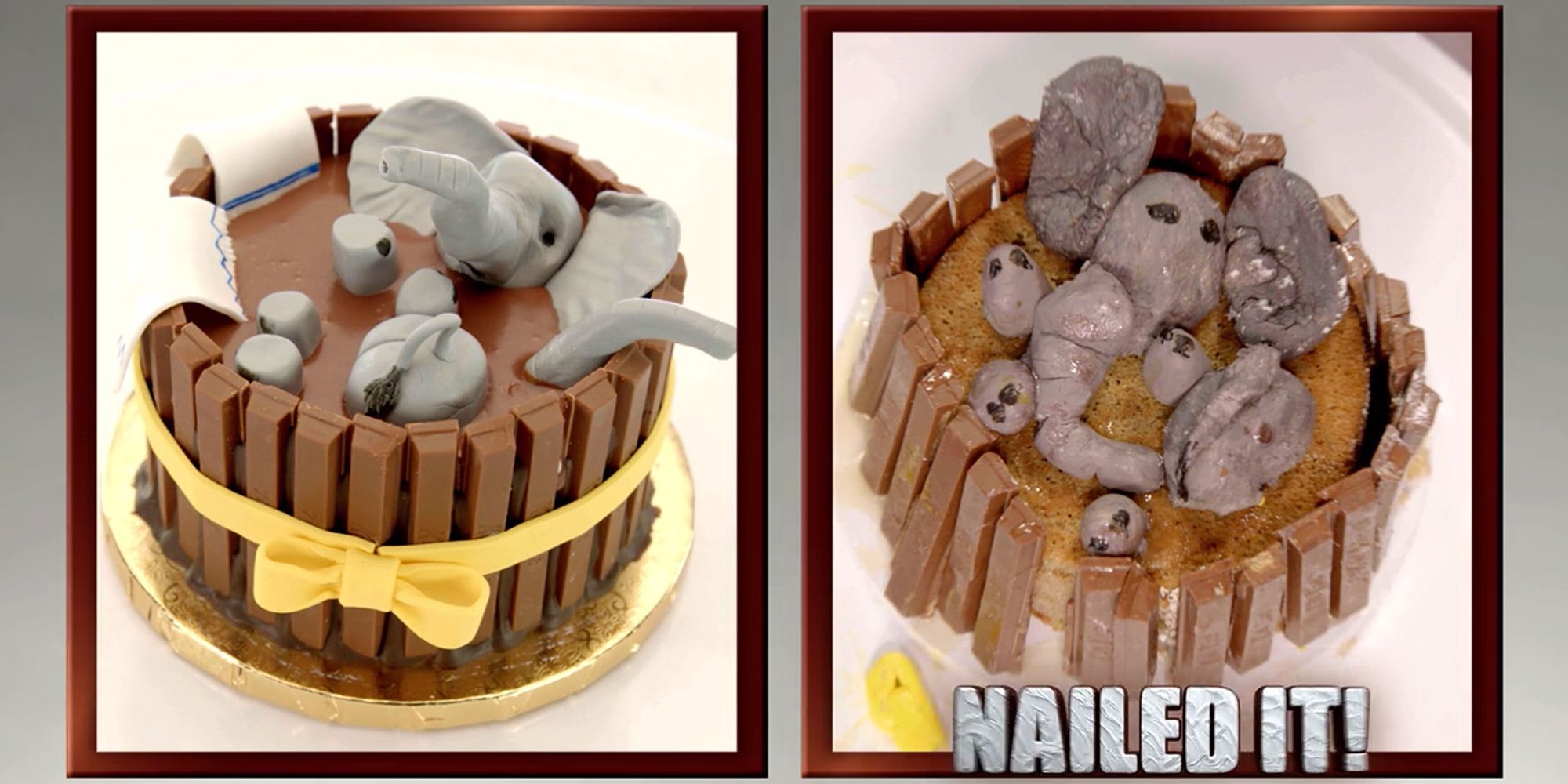 As soon as Nicole observed that baker Sal Venturelli did not turn on the tablet containing the recipe, viewers knew they were in for a real treat. Sal's insistence on playing by his own rules resulted in burnt chocolate, beached and overcrowded fondant elephants, and a cake with the consistency of pudding.
Sal's upbeat attitude and fixation with the kitchen's microwave quickly made him a fan-favorite amongst viewers. His popularity brought him back for an all-star episode in Nailed It!'s first holiday season.
10

Kymberli's Trump Cake ("In Your Face!")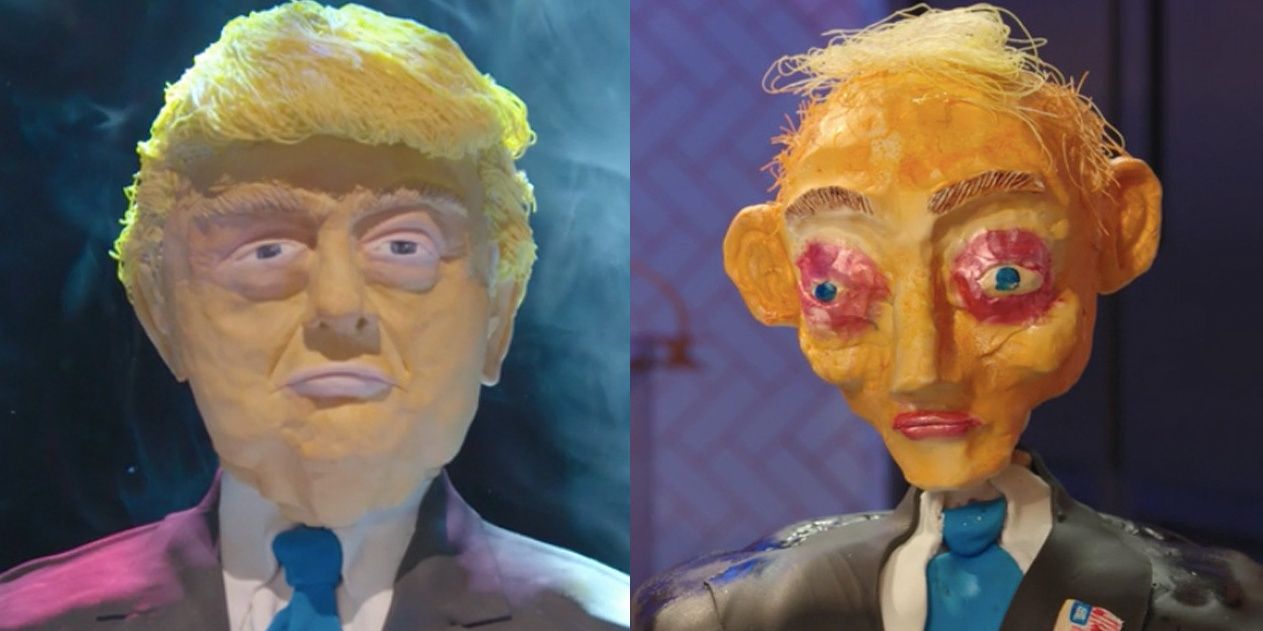 In the first season of the hit Netflix series, Nicole Byers and Jacques Torres presented a challenge to the very amateur bakers of presidential proportions. Yes, they were tasked with making a cake that was an exact replica of Donald Trump, our current president.
There were contestants on both sides of the political spectrum, but the ones opposed to him put their politics aside in hopes of making the best possible version of him and winning the $10,000 prize. All of the contestants had interesting interpretations of Trump, but it was Kymberli who made a cake that was downright hilarious. He looked gaunt, with beady red-rimmed eyes, and barely-there hair. It was terrifying yet comical.
9

Cia's Superhero 'Cupcakes' ("The Marvel Episode!")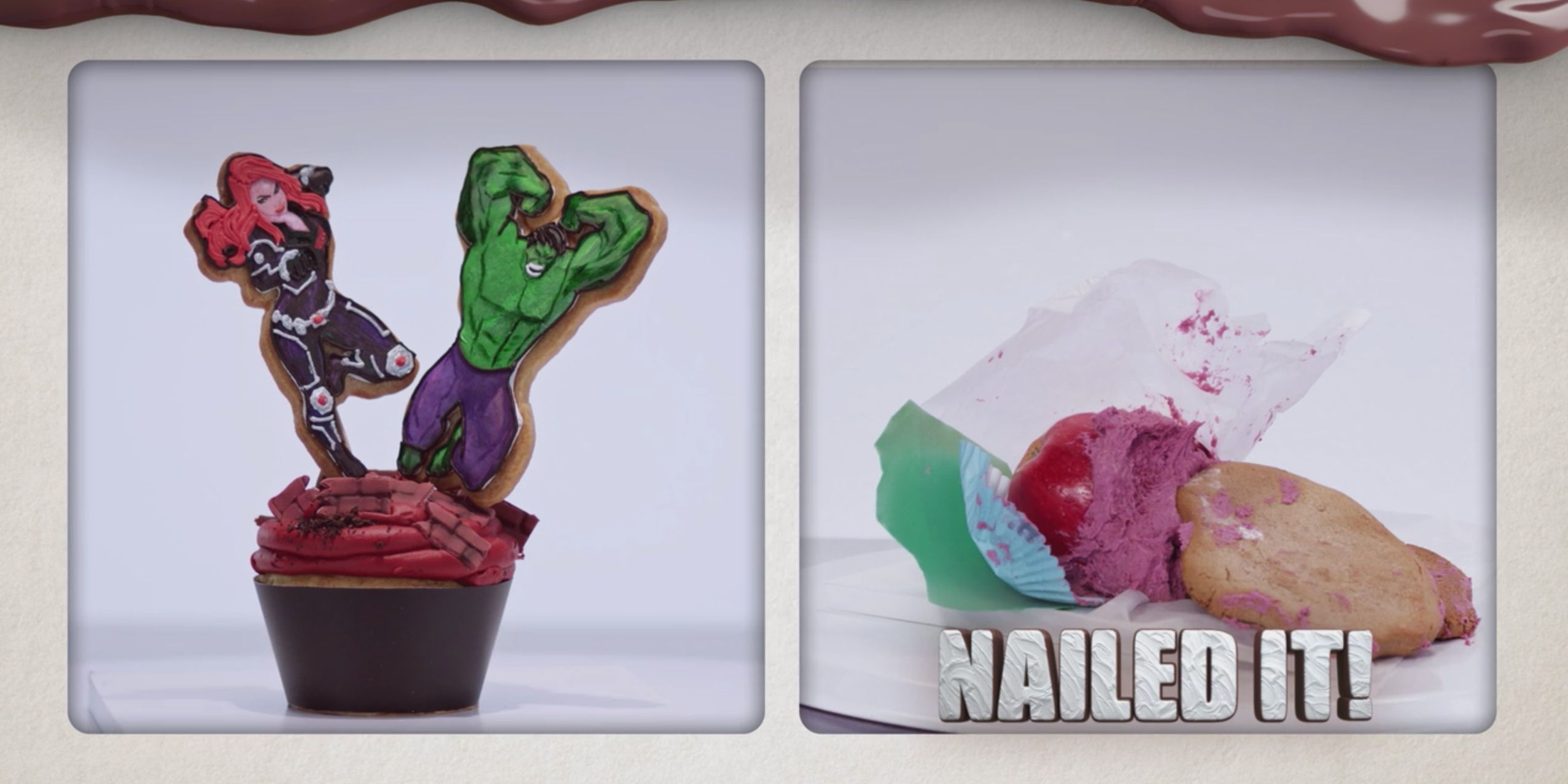 In season 3 of Nailed It!, the theme was all things Marvel Comics. With the guest judge being celebrity geek Felicia Day, it was bound to be a fun episode filled with superheroes and bad baking. It did not disappoint, especially with contestant Cia Hang. Cia was far more focused on snacking and cracking jokes than actually completing the challenge, so when he had to replicate cupcakes with superhero cookie toppers, he failed miserably.
RELATED: The 10 Most Outrageous Dishes Ever Made On The Great British Baking Show
His cupcakes were basically mush, so he was quick to come up with a solution, albeit a terrible one. He took an apple, slapped some buttercream on it, and stuck his horrible cookie on top of it. It was comedic gold.
8

Sal's New Years Cake ("3… 2… 1, Ya Done!")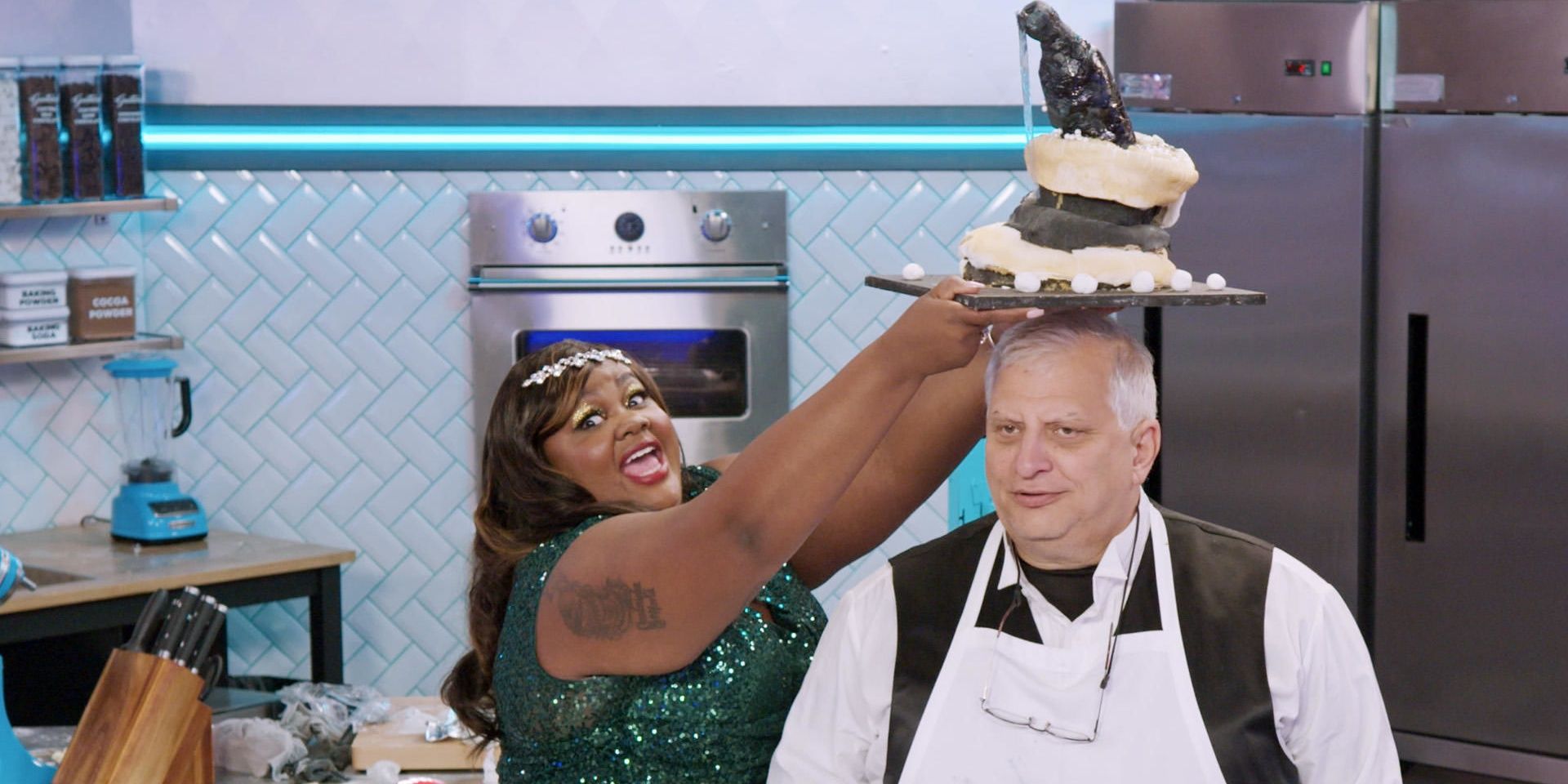 Sal Venturelli was a season 1 Nailed It! contestant who, you guessed it, failed epically at his recreations of the dessert challenges. So when they had a fan favorites edition of Nailed It! in their holiday season, he obviously had to return.
He did just as poorly, if not worse, than he did in the first season. His first challenge of making a chocolate-dipped New Year's resolution cookie lacked the design, shape, and chocolate that viewers saw on the original cookie. But it was the cake round where things went horribly awry. His topsy-turvy cake looked more like a witch's hat and the judges couldn't help but tease him mercilessly about it.
7

Toyshika's Statue Of David ("Masterpiece or Disasterpiece?")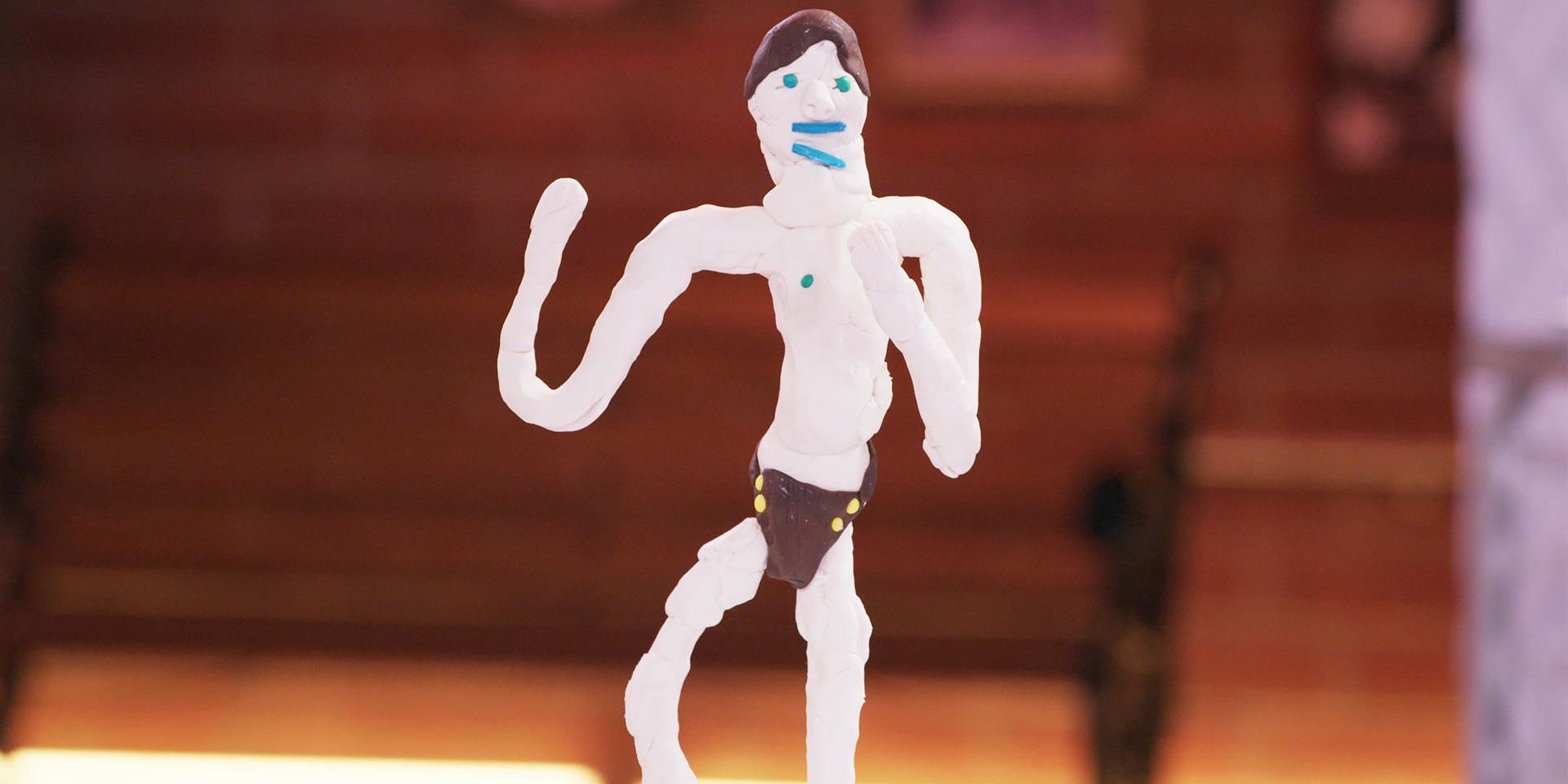 Season 3 had many great moments throughout the season, but this next cake fail was quite possibly one of the best of them all. Baking contestant Toyshika Peterson — as well as her fellow contestants — were tasked with recreating the Statue of David. Yes, the most famous statue of all time. But this time, it was in cake form.
With the judges asking them to make a cake covered in marble fondant and then completing it with a sculpted edible Statue of David, this challenge was destined for disaster. Toyshika's iteration of the artwork was hysterical, with his arms resembling noodles and blue facial details.
6

Sunny Huang's Grinch Cake ("One Fail, Two Fail. I Fail, You Fail!")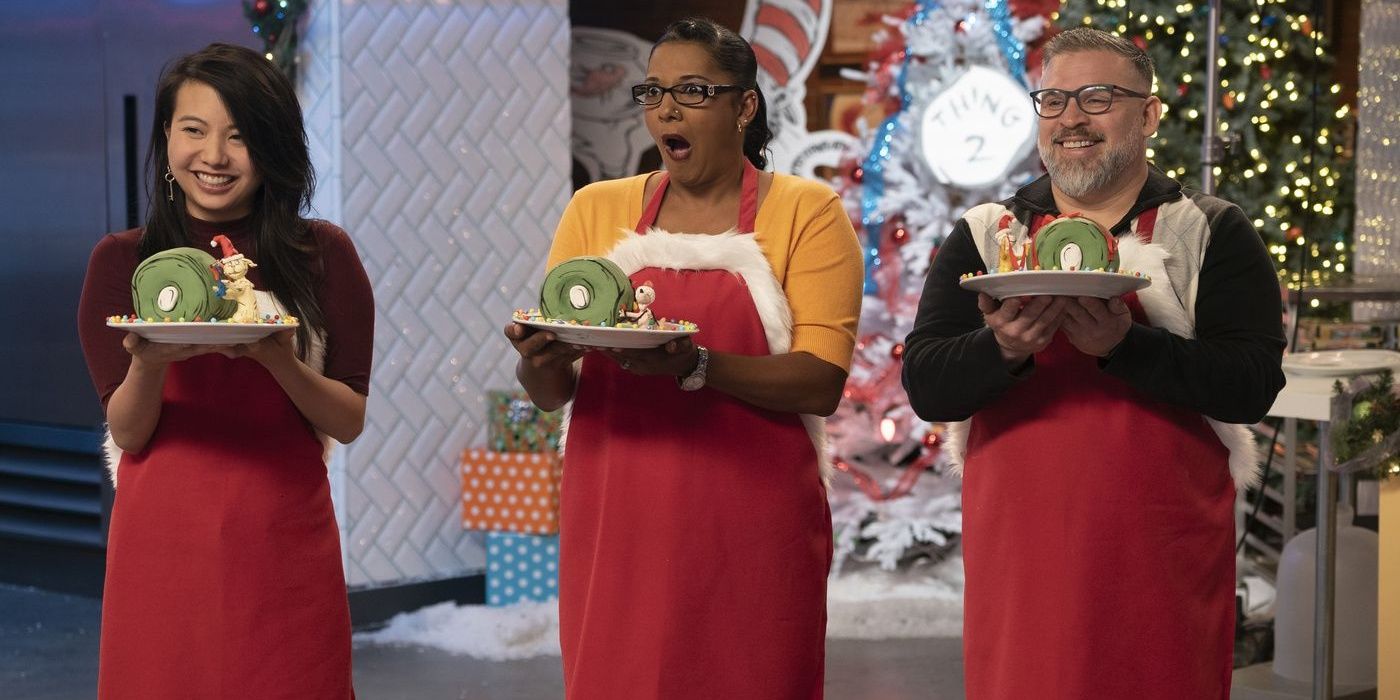 In the most recent Nailed It! Holiday, there was one contestant who stood out amongst them all as being one of the worst bakers to ever be on the show. Sunny Huang was one of the bakers vying for the $10,000 prize, but there was no way she was going to get her hands on it after seeing her severely lacking baking skills.
RELATED: 5 Of The Best Creations From Season 1 Of Halloween Baking Championship (& 5 That Fell Flat)
She was so concerned about getting ingredients on her clothing that she was even armed with a laundry detergent pen, which she frequently used throughout the episode. Meanwhile, her desserts were coming out far less than edible, and the Grinch scene she made out of cake was the worst of them all.
5

Amanda's Jelly Doughnut ("Fantasyland")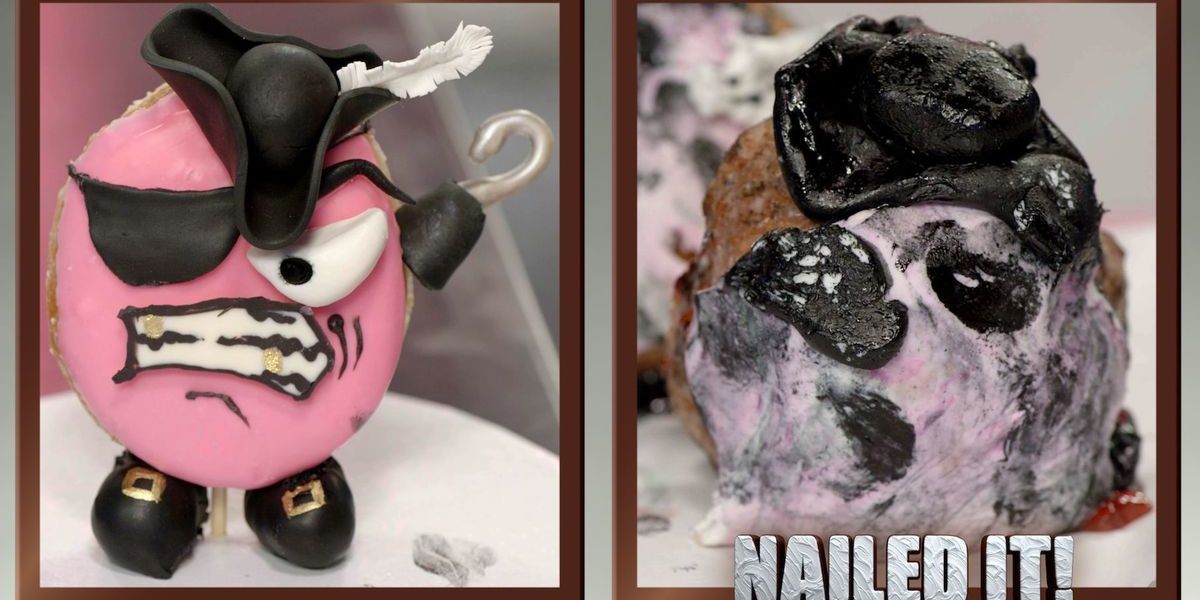 In season 1, episode 2 of Nailed It!, there was a southern belle by the name of Amanda Giles. The woman was as sweet as can be, but she was not very skilled in the kitchen.
The first challenge had the bakers attempting to make jelly-filled doughnuts, but it was the decorations that failed Amanda in the end. She successfully filled the doughnuts with jelly, but she was unable to recreate the pirate look of the original doughnut. Her version looked like a 5-year-old had attempted it, with the buttercream smeared and the hat looking more cowboy than a pirate, as host Nicole Byers pointed at.
4

Will's Barbecue Cake ("Tailgate, Failgate")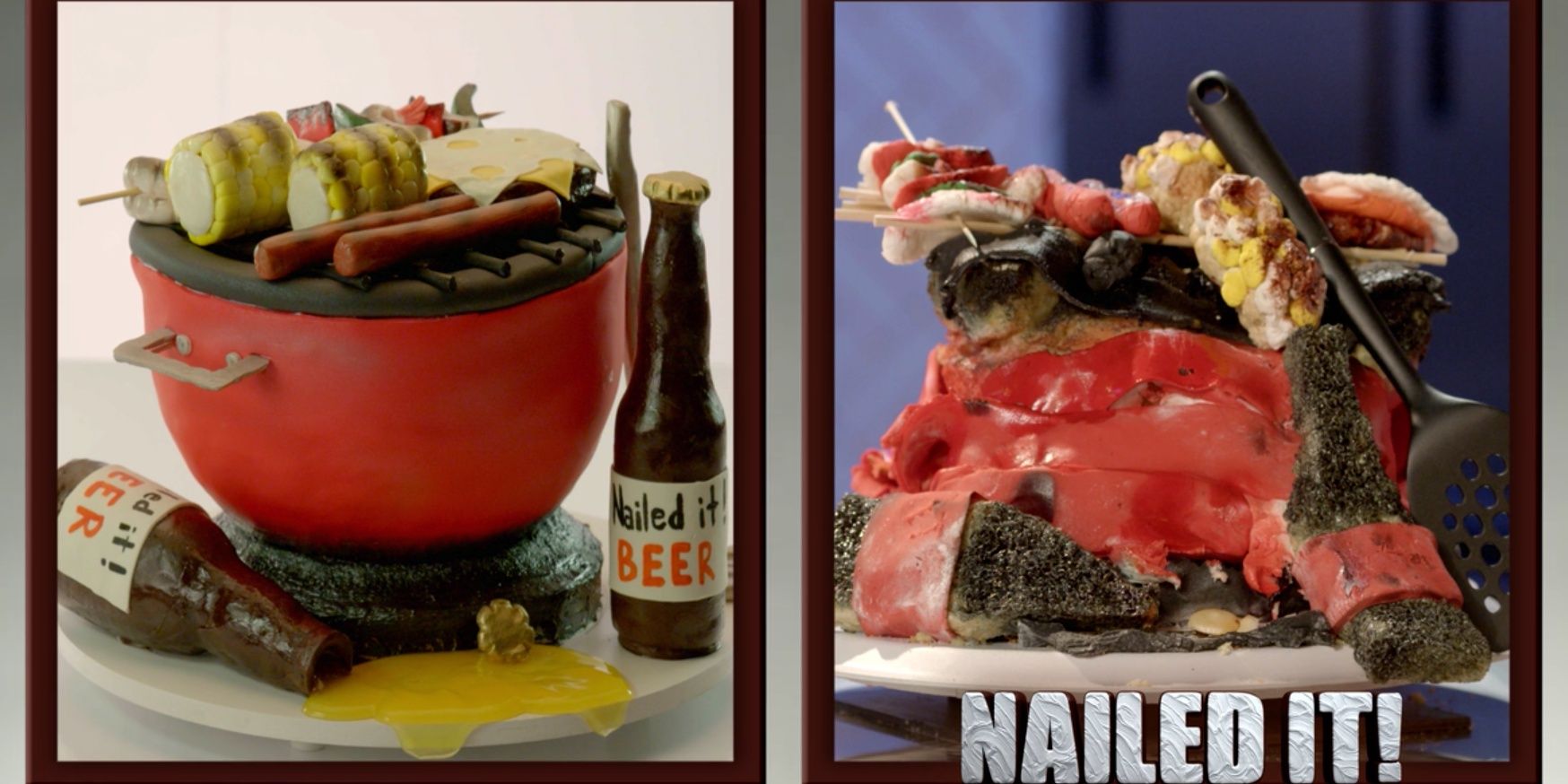 There is something to be said for improvising when you know you're not going to meet the challenge's requirements on a baking show such as Nailed It!. That is exactly what contestant Will Edwards utilized when his version of the barbecue cake they were challenged to make was definitely failing.
RELATED: The 10 Most Addictive Baking Competition Shows
Not only was the cake and design of it a total disaster in comparison to the first version, but when he ran out of time to create a spatula made of fondant, he took an actual plastic spatula and stuck it on his finished cake. It was this improvisation that made the moment seriously comical.
3

Allison's High-Fashion Doll Cake ("Ready to Wear, Ready to Eat")
Amateur baker Allison Rook may have won the finale of season 3, but in the first challenge, her cake left a lot to be desired. She was meant to build a cake around the body of a barbie doll, and then texturize it to make it look like a high-fashion dress.
Instead of doing that, she presented a cake that was so smashed down, her barbie doll was half-naked. She had green buttercream in her hair, the cake looked a mess, and according to the judges, didn't taste much better than it looked. It was a baking fail of epic proportions.
2

Ismath's T-Rex Cake ("Prehistoric Bakes")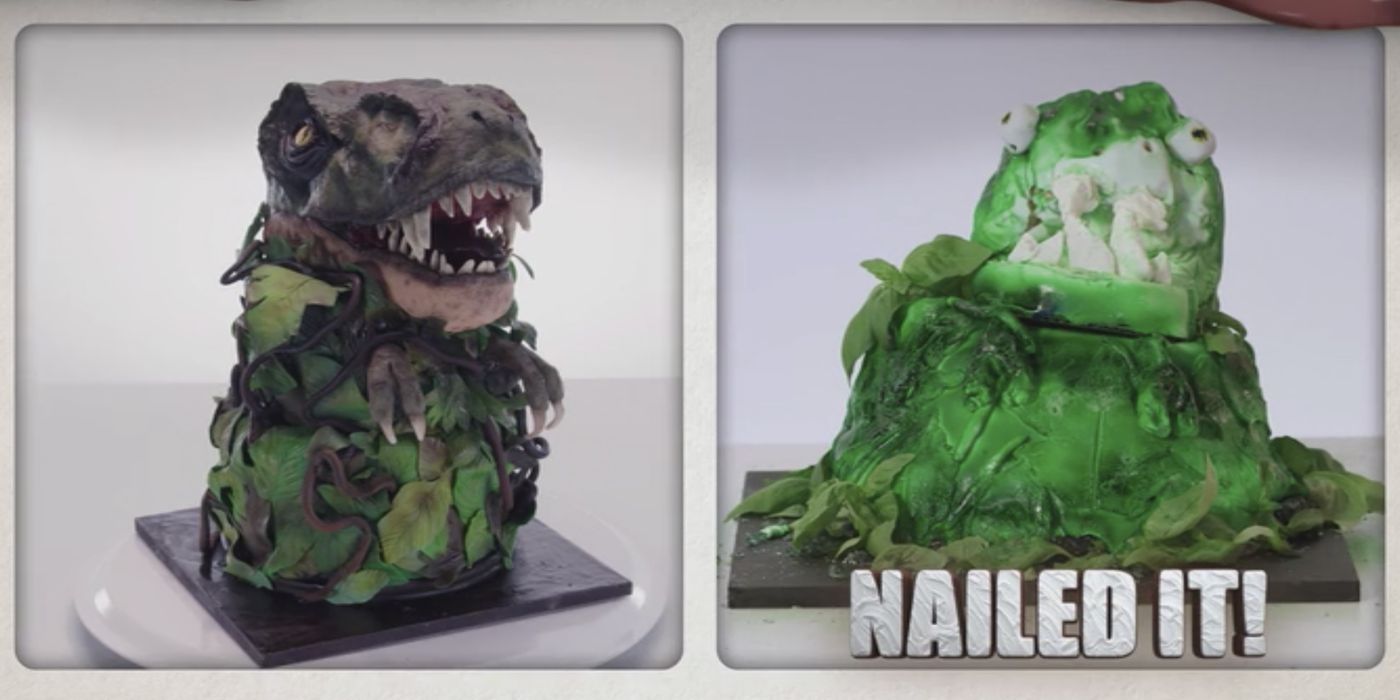 Season 3 of Nailed It! had some of the biggest fails of the series, clearly, and this next one is another to add to that increasingly long list. In the main challenge, the contestants were meant to recreate an amazingly detailed T-Rex cake, but things did not go very smoothly on that front.
Ismath Khan's version of this dinosaur cake looked more like the swamp thing rather than the T-Rex that was attempted here. His eyes are wonky, he's a disgusting color of green, and the teeth were something out of a horror movie. It was a creative take on the original impeccably designed cake.
1

Toni's Princess Cake ("Fantasyland")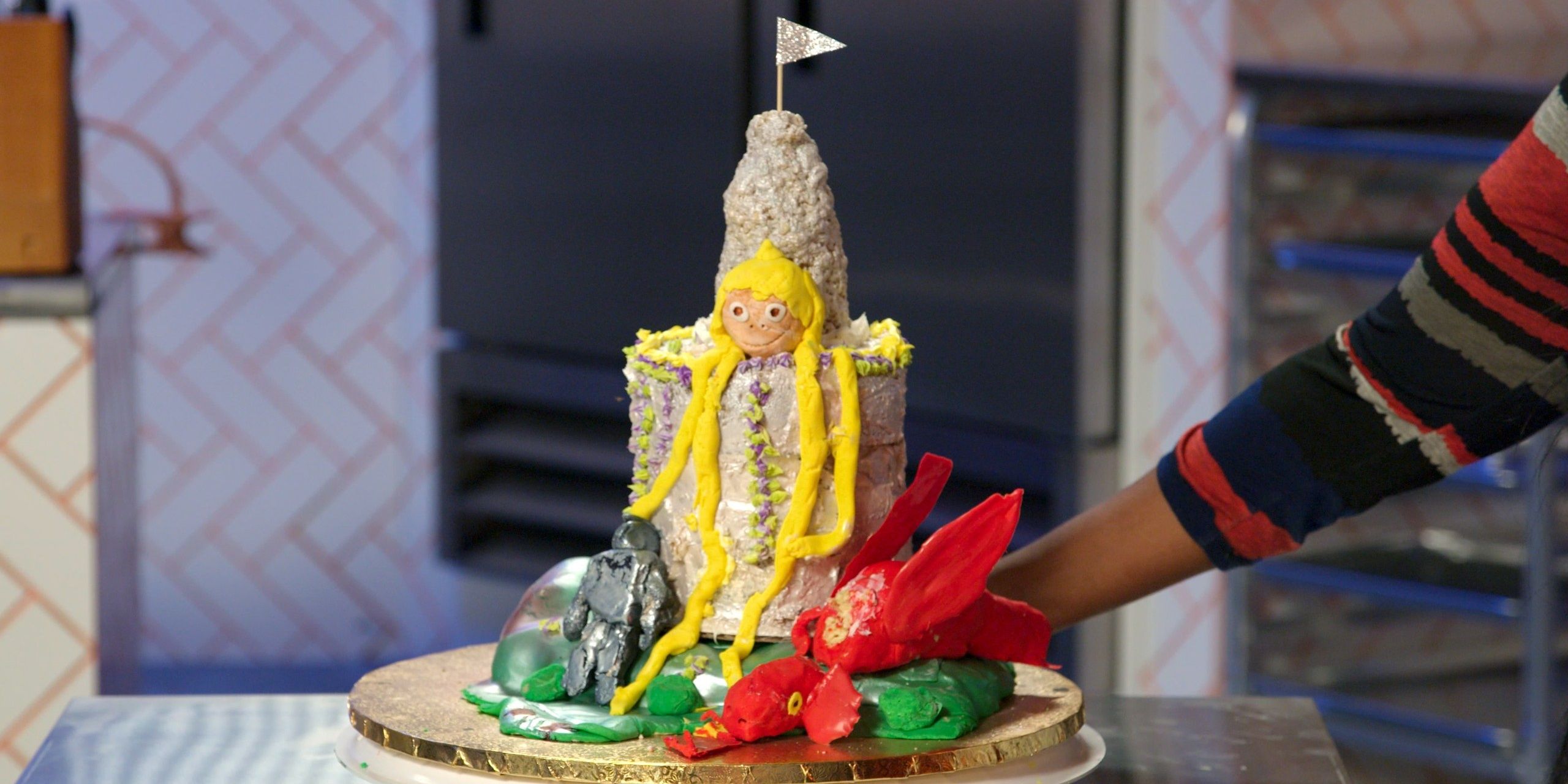 Way back in the first season of the show, there was a fantasy theme to the desserts the contestants were meant to replicate. In the main challenge, it was a princess in a large tower that the bakers had to make in cake form.
The results were equal parts hilarious and horrifying, with Toni Bryant's version being a fan favorite. Her princess was the stuff of nightmares and did not even remotely resemble the princess from the cake Jacques Torres had created in the first place. Even with this disastrous cake, Toni still came out the victor, which just shows that anything can happen, even when you fail miserably.
NEXT: 10 Most Hilariously Bad Episodes of Nailed It!